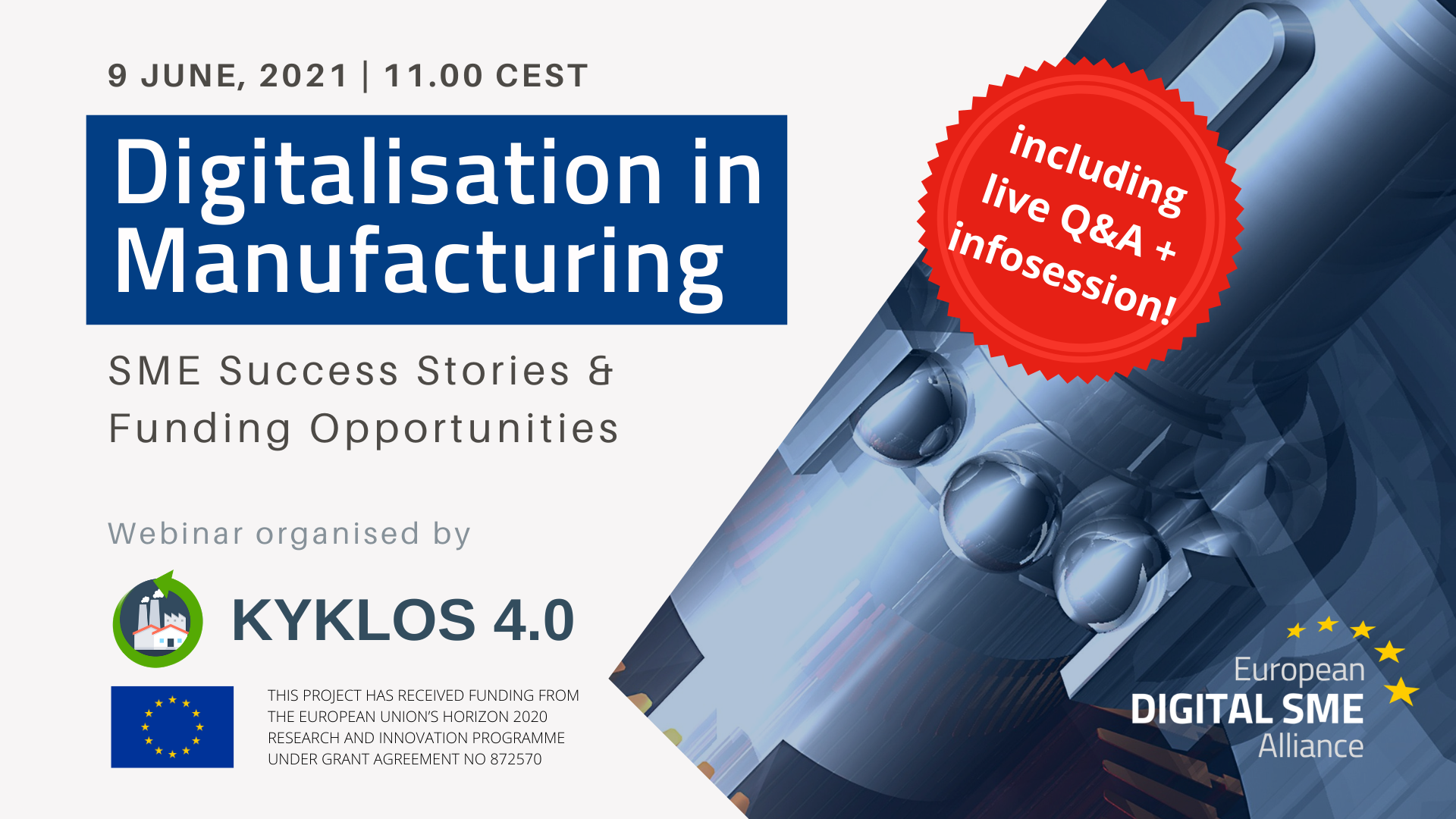 02 Jun

Digitalisation in manufacturing: SME Success Stories & Funding opportunities
DIGITAL SME is organising a webinar on digital manufacturing on 9 June, 11.00 – 12.00 CEST, to discuss how manufacturing companies can optimize their production and supply chain processes by leveraging on digital technologies.
The transition towards a digital and green economy is key to a strong and sustainable European industry. Innovative SMEs and startups are the enablers of this sustainable digitalisation by designing and delivering innovative solutions for manufacturing processes and the whole manufacturing value chain. Solutions based on technologies such as IoT and AI not only allow to enhance a factory's productivity, but also to increase resource efficiency and decrease waste, for example through advanced circular manufacturing.
The Horizon2020 project KYKLOS4.0 is offering a funding opportunity for small consortia to submit project proposals for the development of innovative solutions to improve digital manufacturing processes. Up to 150.000€ is available per consortium! (More information on the Open Call here)
During this webinar, we will showcase success stories from SMEs providing solutions for the digitalisation of manufacturing processes. This will be followed by an info session about the KYKLOS4.0 funding opportunity, including a Q&A with participants on the application procedure.
AGENDA
11.00 – 11.05
Welcome by DIGITAL SME
11.05 – 11.25
Digitalisation of manufacturing processes: Success stories of digital SMEs

GoSmarter: AI tools to help manufacturers to improve operations fast!

Ruth Kearney, Nightingale HQ

Italian Smart Lifts: A traditional manufacturing sector digitalised through standardisation

Marco Cogliati, TRE-E (TBC)
11.25 – 11.30
Towards advanced circular manufacturing: The KYKLOS4.0 project at a glance

Jason Mansell, Tecnalia, KYKLOS4.0 Coordinator
11.30 – 12.00
Your opportunity to get funded to deliver innovation in the digital manufacturing domain!

KYKLOS4.0 Open Call info session, followed by a Q&A with participants

Samuel Almeida, F6S