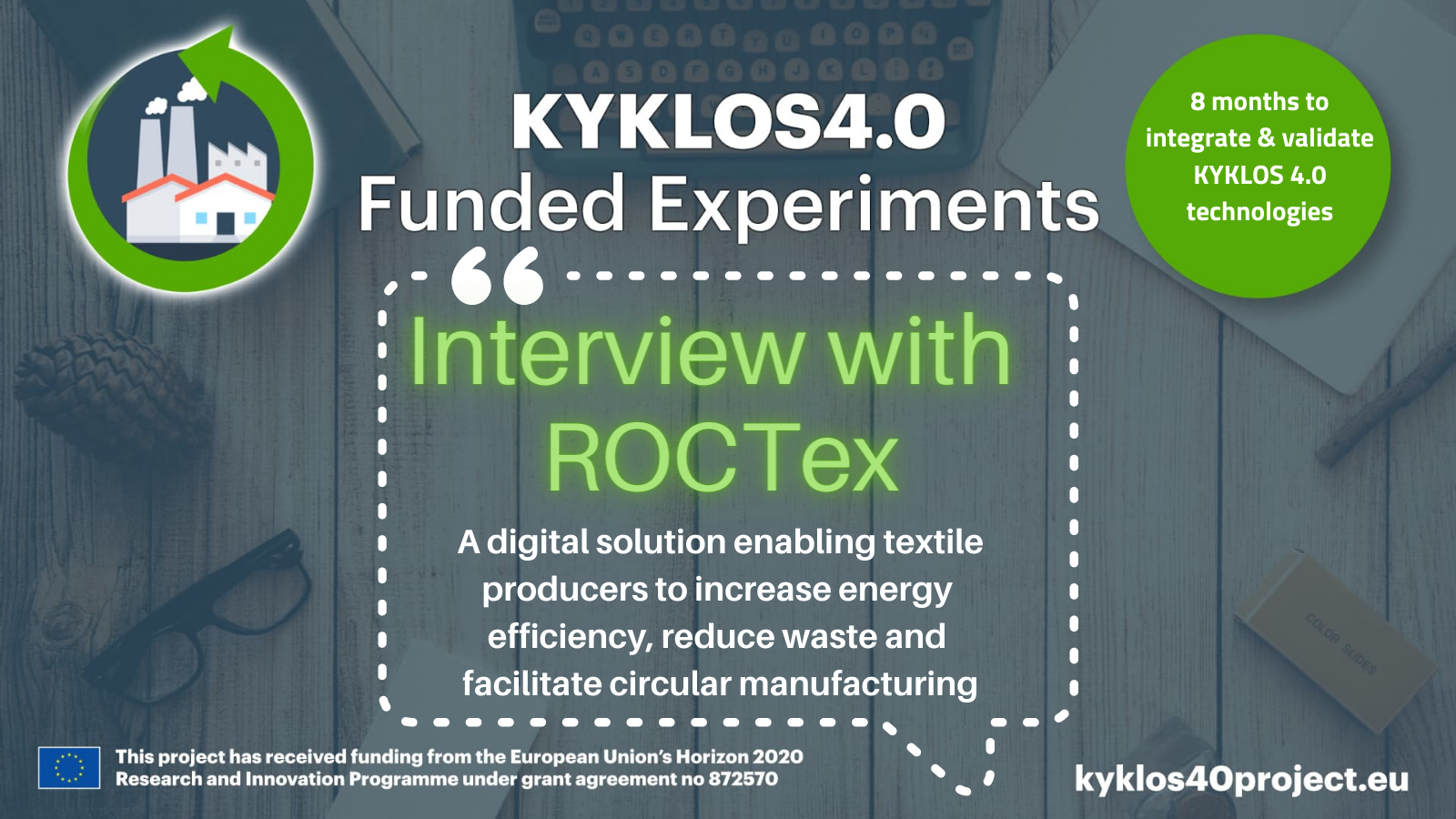 01 Aug

Interview with the ROCTex experiment

The KYKLOS4.0 Open Call #2 is funding seventeen experiments that are developing technological solutions of value for the manufacturing domain.

The project will be releasing a series of interviews over the course of the coming weeks with the objective of promoting the work being implemented in these experiments and allowing our readers to understand potential uptake of the solutions being developed by them.

This is the fifteenth of the seventeen interviews with the experiments funded under the open call. Today, we interview the ROCTex experiment.

* * * * *

Explain your project in one sentence.

ROCTex focuses on the textile industry and in particular on garment manufacturing, aiming to develop a digital solution that will enable producers to:

– increase their energy efficiency and their agility; 

– reduce their waste during production;

– collect data across the product life cycle in order to enrich its digital product passport.

How is KYKLOS4.0 project and the selected services (and components) bringing value to your project?

ROCTex aims to complement the real-life experiments of KYKLOS 4.0 for increased energy efficiency and reduction of raw material use. The issue is of high importance for the textile industry and in particular for apparel manufacturing which is found to be responsible for up to 10% of the global GHG emissions according to the UN. In order to achieve this, we are planning to adopt the "Monitoring and resource optimisation with Decision Support" of KYKLOS 4.0 and leverage three promising components, namely: the LCA Simulations Engine, the Data Manager and the Decision Support System in order to accelerate the digitalisation of the industry, the majority of which consists of small businesses with limited resources. These components will allow us to develop more holistic services and explore various hypotheses simultaneously. Apart from the digital solution, we will also look into potential circular business models for our partners which will facilitate the minimisation of resource use and the prevention of waste generation. KYKLOS 4.0 dissemination activities and audience reach is also expected to open the door to more business opportunities.  

How is your solution contributing to circular manufacturing?

At the moment there is very little structured information as well as transparency in fashion, which in Europe is responsible for approximately 80% of textile products. This is an issue for achieving circularity since there are still a lot of areas where there are knowledge gaps and ambiguity of understanding related to the quantities of waste, how materials flow within these processes, why things are being done the way they are and how alternative solutions behave in comparison to what is traditionally done. Our solution aims to shed light on the apparel manufacturing processes and their environmental impact as well as the impact of decisions made at the design stage. Moreover, by exploring viable circular business models, we plan to translate the knowledge producers and their teams may gain from our solution into actions for a healthy transition to circular operations as well as their engagement towards such a goal.

How will your solution be replicated and used in other manufacturing environments?

SUPERSTILE is one of our partners, who is providing apparel manufacturing-as-a-service, collaborating with a great number of small-medium businesses (representative of the majority of businesses in the industry) in multiple countries. This is key for ensuring that the solution we are developing is not fit for only one type of manufacturing environment but for any environment in the textile industry. KYKLOS 4.0 components are also vital for this since they are made for processes of different digital maturity, making it possible to process data that are manually collected as well as automatically monitored via digital twins and live sensors. Moreover, both Zelus and ZeroBelow (the other two partners of the ROCTex consortium) are members of the S4Fashion community, which is a platform where businesses all over Europe are showcasing their activities and are collaborating to accelerate sustainable and circular fashion. We are planning to leverage this platform both for getting feedback regarding the user-friendliness of our solution as well as the relevance of the insights, for investigating the possibilities to adopt ROCtex in their own facilities and for extending its services through collaborations.

What advice would you give to companies wishing to make their manufacturing processes more circular?

Start with understanding your material flows and the impact of the processes that are taking place during manufacturing. Then imagine where and how you can interfere, starting from the design of your product and then explore the tweaks or complete reinvention of processes needed in order to achieve circularity such as being able to repair what you produce, redistribute, refurbish and remanufacture as well as recycle it. Therefore, start from understanding and then move on with envisioning change and prioritising design.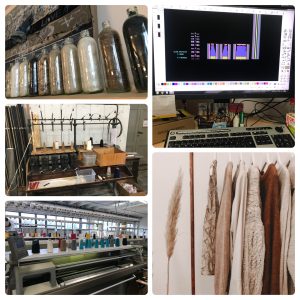 * * * * *
About the ROCTex project
The ROCTex project –Resource Optimization for Circular textile product production processes – is implemented by three partners: Zelus PC (Greece), ZeroBelow (Germany), SUPERSTILE LTD (Italy)
Summary: The main objective of the project is to develop a digital solution enabling textile producers to accelerate the adoption of technological innovation to increase their energy efficiency and their agility, reduce waste during the product design and production processes, and to allow the building/enriching of digital product passports that will help researchers come up with innovative solutions for making the textile manufacturing circular.