25 Jul

Interview with the POET4POEM experiment

The KYKLOS4.0 Open Call #2 is funding seventeen experiments that are developing technological solutions of value for the manufacturing domain.

The project will be releasing a series of interviews over the course of the coming weeks with the objective of promoting the work being implemented in these experiments and allowing our readers to understand potential uptake of the solutions being developed by them.

This is the twelfth of the seventeen interviews with the experiments funded under the open call. Today, we interview the POET4POEM experiment.

* * * * *

Explain your project in one sentence.

Within POET4POEM we are developing and validating three software components for manufacturing operations management: (1) resources, energy and scrap tracker, (2) planning and scheduling component which minimises the energy usage and maximises reuse of scrap, (3) energy, resources and produced scrap anomalies monitor to plan maintenance operations.

How is KYKLOS4.0 project and the selected services (and components) bringing value to your project?

First of all, we will use three KYKLOS 4.0 components that will help our system with monitoring of the Footprint (LCA Simulation engine), establishing reliable communication (KYKLOS Back-End) and authorization (KYKLOS identity provider). The KYKLOS 4.0 team is extremely helpful when we need details on the components usage and their integration with our software.

Secondly, the existing body of knowledge on circularity that we can make use of while cooperating with the KYKLOS 4.0 experts, can save us a lot of redundant development effort. 

Thirdly, joining the KYKLOS 4.0 ecosystem will position us strongly in the European innovation community allowing us to build strong partnerships for future developments. The KYKLOS 4.0 marketplace, to which we are going to onboard our components, may create new business opportunities for us, which would be otherwise hard to obtain.

Last, but not least, the financial contribution of KYKLOS 4.0 will allow us to develop TRL7 of our solution which is the first hurdle in convincing potential investors and customers. Such a boost is of tremendous value, especially right now with the financial crisis looming and there is a more conservative approach to innovation investments.

How is your solution contributing to circular manufacturing?

Our solution will be validated by two industrial partners – one being a lot-size-one fabricator operating in a metal industry and the other active in the plastic molding branch. Both companies, as well as many other manufacturers, face similar challenges relating to circular manufacturing. Working in a high-mix, low-volume setup means that the production process cannot be optimised once and for all. 

Instead, each order should be planned in a way ensuring allocation to the most energy-efficient machines, using as much of recycled materials and accounting for any generated and potentially reusable scrap. However, barely any manufacturing company is capable of achieving that due to one main reason – lack of the sufficient, product-centered information collected and stored at every production step. The use of recycled scrap could be significantly increased by the industrial partners without any deterioration to the quality of the products if the company could collect and store information on the generated and available scrap and its parameters (e.g. humidity in case of plastic or a size in case of metal) leading to both more environmentally friendly and economic production. What is more important, the overall consumption of energy could be significantly decreased, if accurate estimates of energy cost per operation, depending on the machine used, would be available. On top of that, both companies are vulnerable to malfunctions of machines which lead not only to disruptions of the production schedule, but even more importantly stop the tasks mid-way and lead to discarding a lot of raw materials. Being able to foresee such imminent failures and properly schedule maintenance would be of tremendous value to both companies involved in the project as well as other manufacturers in the future.

How will your solution be replicated and used in other manufacturing environments?

The three components developed by us within the POET4POEM project and the three KYKLOS 4.0 components will be integrated with our existing planning and scheduling platform, adding new value to the end users. The platform is based on a resources capacities model, that translates into its universality. it can be applied in almost every manufacturing environment, bringing the highest value to those characterised by intensive production variability and strongly customised products. First of all, our target markets will be the plastic molding and metal products branches, and then we want to attract the wood industry, furniture branch, machinery constructors and metal assembling. In our software, we rely on standards such as Asset Administration Shell or Smart Connected Supplier Network, to co-create a network of factories exchanging data and cooperating with each other in the future. We aim to make our solution accessible to small and medium-sized manufacturers and therefore we develop it as a web-based application to lower the entry barrier (initial investment).

What advice would you give to companies wishing to make their manufacturing processes more circular?

Above all, we would like to focus our message on reaching SME manufacturers, for whom the implementation of sustainable solutions is often prohibitively expensive in relation to their capabilities. We would advise them looking at the economic benefits of implementing a circular production model – using waste as a raw material, scheduling in a way that minimises material and energy consumption, and predicting failures based on detected anomalies are all sources of significant savings that we believe will successfully cover the costs of implementing such a solution. Secondly, we advise to look for solutions that allow you to automate processes, because then the circularity will be more readily available. Thirdly, one of the obstacles preventing SMEs from implementing innovation in their processes is the uncertainty of the results and the difficulty in accurately estimating the return on investment (e.g. ROI) and payback period. In the case of solutions offered in a SaaS model, such as ours, entrepreneurs are not uncertain about the results of implementation, they can see from the very first days of implementation whether the solution brings them value and what problems they can solve with it.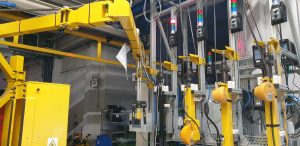 * * * * *
About the POET4POEM project
The POET4POEM project – Product-Oriented Energy and resources Tracking for Production Optimization and Equipment Maintenance – is implemented by three partners: MASTA SOLUTIONS Sp. z o. o. (Poland), MCH POLSKA IWONA KOSCIUSZKO (Poland), MICHAŁ JANIEC MJ POLYMERS (Poland)
Summary: The main objective of the project is to optimize the energy consumption at each production steps as well as tracking and reusing the generated scrap to help manufacturing companies reduce the environmental footprint of their operations while offering economic benefits.