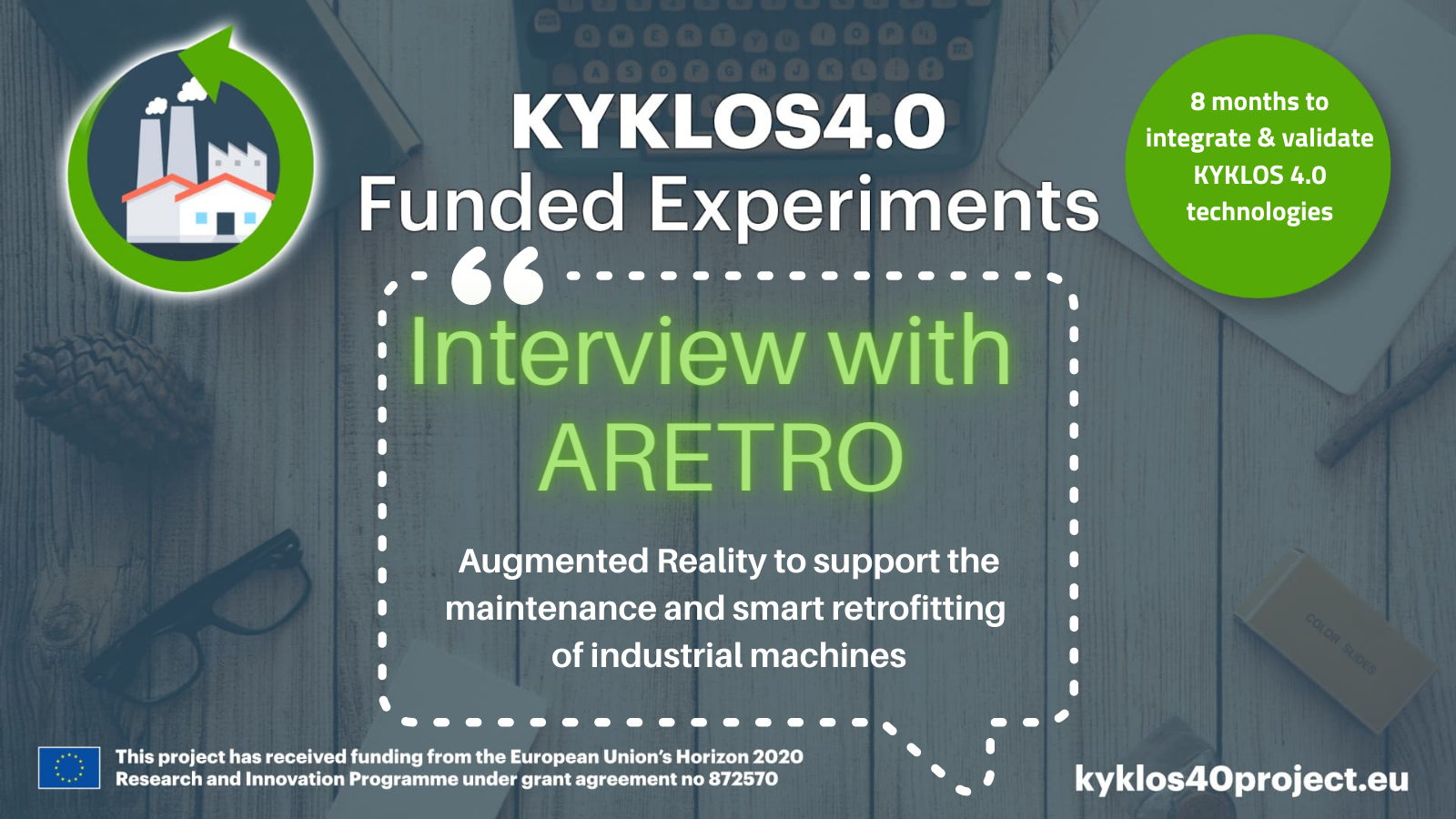 12 May

Interview with the ARETRO experiment

The KYKLOS4.0 Open Call #2 is funding seventeen experiments that are developing technological solutions of value for the manufacturing domain.

The project will be releasing a series of interviews over the course of the coming weeks with the objective of promoting the work being implemented in these experiments and allowing our readers to understand potential uptake of the solutions being developed by them.

This is the third of the seventeen interviews with the experiments funded under the open call. Today, we interview the ARETRO experiment.

* * * * *

Explain your project in one sentence.

ARETRO simplifies the construction of Augmented Reality interfaces that add new layers of information, effectively expanding the machines capabilities that were not available when the machines were originally designed and built.

How is KYKLOS4.0 project and the selected services (and components) bringing value to your project?

As technology providers, KYKLOS 4.0 allows access to Augmented Reality content services (editor and player) and also a Maintenance Scheduler module that fits into the overall goal of ARETRO. Furthermore, the KYKLOS 4.0 Marketplace is expected to play an important role in achieving ARETRO sustainability by extending ARETRO own dissemination activities, and reaching new potential customers.

How is your solution contributing to circular manufacturing?

By providing older and new machines with new virtual interfaces, expanding their original capabilities that were not available when they were originally designed and built, ARETRO is extending machine usability and consequently, machine usefulness. That, added to a significant decrease in workstation wear and tear (these are virtual interfaces), effectively extend machine longevity.

How will your solution be replicated and used in other manufacturing environments?

ARETRO mainly provides a web constructor with simple drag-and-drop building blocks that enable easy and faster construction of AR interfaces. Such interfaces only depend on the machine CAD model (or equivalent),  their documentation and communication capabilities. Therefore, it is applicable to any machine, given the required  data are available/provided to the ARETRO platform.

What advice would you give to companies wishing to make their manufacturing processes more circular?

The industrial shop floor must be digitised. Machines should have a communication module capable of reporting important machine data to some central management software. Older machines can be retrofitted with sensors to provide such information. Once this is achieved, each machine can have its digital twin (even though limited), and the retrofitting possibilities are immense.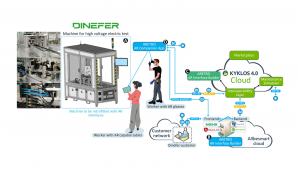 * * * * *
About the ARETRO project
The ARETRO project – Augmented Reality to support the maintenance and smart retrofitting of industrial machines – is implemented by three partners: Allbesmart, LDA (Portugal), Dinefer – Engenharia e Sistemas Industriais SA (Portugal), MindSolutions-Industrial Solutions Lda (Portugal).
Summary: The main objective of the project is to show how new AR display technologies can help the smart mantainance and retrofitting of industrial machines.