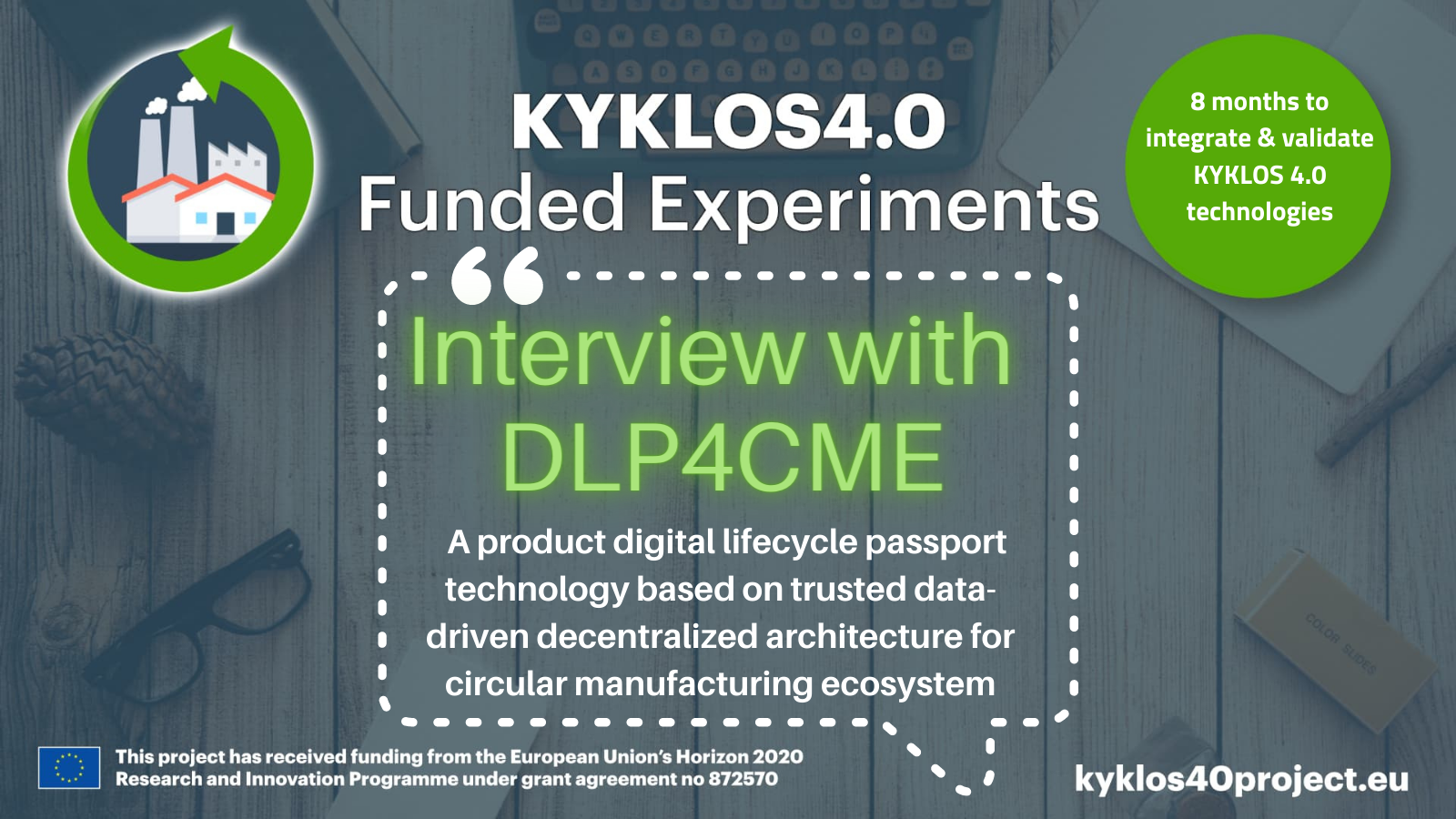 12 May

Interview with the DLP4CME experiment

The KYKLOS4.0 Open Call #2 is funding seventeen experiments that are developing technological solutions of value for the manufacturing domain.

The project will be releasing a series of interviews over the course of the coming weeks with the objective of promoting the work being implemented in these experiments and allowing our readers to understand potential uptake of the solutions being developed by them.

This is the sixth of the seventeen interviews with the experiments funded under the open call. Today, we interview the DLP4CME experiment.

* * * * *

Explain your project in one sentence.

DLP4CME project objective is designed to provide end-to-end traceability, transparency, and trust of every manufactured product during its life cycle in an edge-based decentralised circular supply chain. Furthermore, Digital Lifecycle Passport allows to build secure human-oriented data-driven analytics services on top (ground-to-cloud) trusted data collected from a decentralised secure edge network deployed across the manufacturing supply chain.

How is KYKLOS4.0 project and the selected services (and components) bringing value to your project?

To accelerate the prototype development, testing and validation processes and reduce the time-to-market of future versions improving the project's final results, it has selected two technical components from the KYKLOS 4.0 collaborative platform. On one hand, the blockchain-based auditing platform (TC5.1.1) developed by Tecnalia is aligned with the data integrity, traceability, authenticity and trust (auditable product information) design principles considered in Digital Lifecycle Passport technology, even though it was originally intended for a different manufacturing application domain. Blockchain-based introduces a technical improvement related to the current product traceability, transparency and auditory in the factory expedition zone, avoiding human errors due to the assignment of wrong components or attributes to a given product. On the other hand, the web 3D modelling component (TC6.4.1) developed by TWI Hellas will allow the transforming of actual human-oriented user experience, opening a new dimension (closer to human environment perception) to improve personalised product specification auditory based on trusted data-driven visual analytic service during product's lifecycle in a circular manufacturing environment.

How is your solution contributing to circular manufacturing?

To validate the achievements and performance of the developed technology, 3 wireless secure edges will be deployed on the factory shop floor and 17 Micron series products will be selected to demonstrate the market potential of blockchain-based digital lifecycle passport technology to provide traceable, transparent and trusted data-driven services across the production supply chain from manufacturing, assembly, delivery and final expedition. Furthermore, the pilot will validate the potential of the developed technology to build on top personalised human-oriented (web-based) smart analytic services based on trusted data channels to improve workers' performance, productivity and proactive decision-making in real-time. According to several deep tech expert researches, product traceability, transparent and trusted-oriented technologies will reach a market cap over 200 billion by 2030 in sectors such as equipment, spare part and components manufacturing, electric vehicle battery recycling, e-waste, circular food supply chain and sustainable textile industries. Product blockchain-based digital lifecycle passport proposed technology is aligned with the circular supply chain objectives, becoming KYKLOS 4.0 platform the ideal scenario to shorten its time-to-market for European manufacturing SMEs.

How will your solution be replicated and used in other manufacturing environments?

Digital Lifecycle Passport is a software as a service technology that can be deployed in any IoT. Three main design and business principles are adopted in the development and future commercialisation of the proposed solution. Firstly, an easy-to-deploy design principle will be adopted to simplify the setup of new secure edge trusted data channels in manufacturing (especially in SMEs) environments to provide end-to-end auditable product (material, attributes, transformation process, among other operations) lifecycle traceability and transparency by blockchain-based via smart-contract Digital Lifecycle Passport technology. Secondly, an easy-to-scale design principle will be included to scale secure edge trusted data-driven nodes in a decentralised manufacturing environment to cover the entire manufacturing supply chain in the function of the company size and real-time (scale up/down the secure edge) infrastructure demand. Finally, the easy-to-afford commercialisation principle provides access to the technology able to afford by almost any company (SMEs or Large enterprises) via a low-cost pay-by-subscription (monthly/annual fee) by the connected secure edge to promote auditable product digital lifecycle passport technology for the European and global manufacturing industry. 

What advice would you give to companies wishing to make their manufacturing processes more circular?

Technologies like Digital Lifecycle Passport makes manufacturing processes more circular,  adopting a holistic approach that could involve the entire product lifecycle attributes, from design to the end of life. This approach aims to monitor, control and audit product's waste, energy consumption, and raw material usage by implementing closed-loop systems, such as recycling and reuse of materials and components. Another key aspect is the possibility to share trusted and auditable information with internal and external stakeholders during the product lifecycle, engaging with suppliers and customers to promote circularity throughout the value chain. This can include developing partnerships for material reuse and recycling, implementing take-back programs for end-of-life products, and educating customers on how to properly dispose of their products. Companies can also leverage digital technologies, such as the Internet of Things (IoT), to monitor and optimize their operations and identify opportunities for circularity. Finally, companies should measure and report on their progress toward circularity goals to track their performance and identify areas for improvement. This can involve using metrics such as waste reduction, energy efficiency, and the percentage of recycled materials used in production. By taking a comprehensive approach and engaging with stakeholders, companies can successfully transition to a more circular manufacturing model that benefits the environment, society, and their bottom line.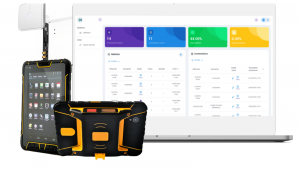 * * * * *
About the DLP4CME project
The DLP4CME project – Auditable Product Lifecycle based on a Trusted Data-driven Decentralized Architecture for Circular Manufacturing Ecosystem – is implemented by two partners: XYMBOT DIGITAL SOLUTIONS (Spain), FOCKE MELER GLUING SOLUTIONS (Spain)
Summary: The main objective of the project is to deploy product digital lifecycle passport technology based on trusted data-driven decentralized architecture for circular manufacturing ecosystem.