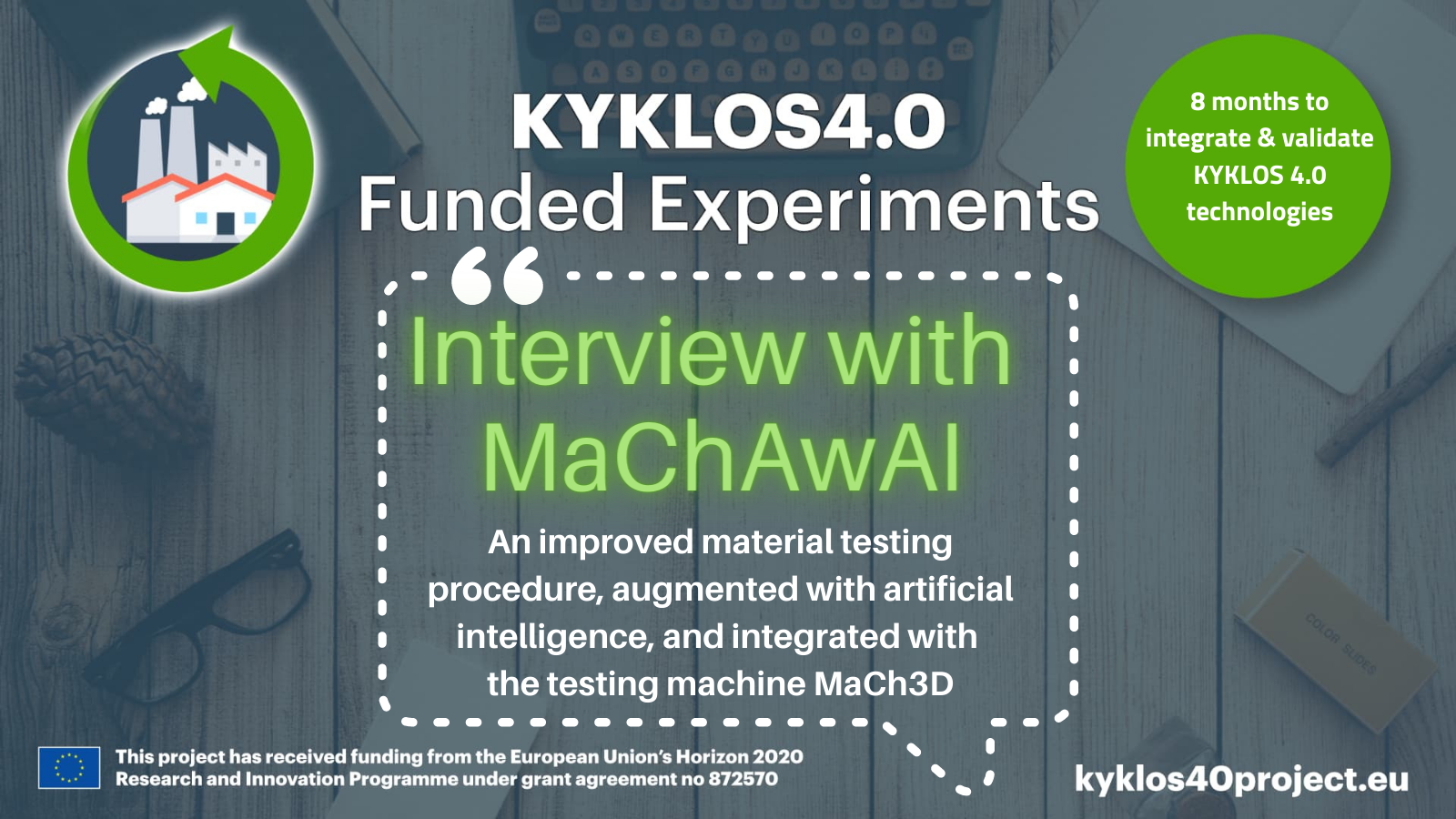 22 Jun

Interview with the MaChAwAI experiment

The KYKLOS4.0 Open Call #2 is funding seventeen experiments that are developing technological solutions of value for the manufacturing domain.

The project will be releasing a series of interviews over the course of the coming weeks with the objective of promoting the work being implemented in these experiments and allowing our readers to understand potential uptake of the solutions being developed by them.

This is the tenth of the seventeen interviews with the experiments funded under the open call. Today, we interview the MaChAwAI experiment.

* * * * *

Explain your project in one sentence.

Easier, safer, faster and accurate out-of-laboratories material testing improved by AI to accelerate materials innovation and building growing trust in new materials and applications.

How is KYKLOS4.0 project and the selected services (and components) bringing value to your project?

Between MaChAwAI project and Kyklos 4.0 there is a strong link both in development of our solution and in its validation. At development stage the Kyklos 4.0 services and components are used as enabling technologies for integrating AI with the scope of our project. In the final experiment, implemented in a real manufacturing environment, AI powered Material Testing will be tested and benchmarked in terms of productivity and information. The entire new set of materials information acquired in the experiment will be evaluated also in terms of their potential impact on product design, activity in which Kyklos 4.0 services are again involved.

How is your solution contributing to circular manufacturing?

Continuous material testing is a key enabler for circularity. Today materials' circularity is based upon statistical data and a very poor number of experiments compared to the number of cases and materials. We are convinced that the democratization of Material Testing leading to a wider number of tests performed daily, for each production batch, will enable materials' circularity driven by materials data, that means recycling materials and/or re-using raw materials as many times as the materials itself can support, defining the limit with direct measure and not upon generical data.

How will your solution be replicated and used in other manufacturing environments?

After the initial experiment at partner production facility, the model is easily replicable at any other manufacturing facility in same industry (additive manufacturing) and also in other industries that transforms raw materials into final products and/or developing new materials directly.

What advice would you give to companies wishing to make their manufacturing processes more circular?

More circularity comes from a circularity attitude. Having attitude to circularity means to have and apply bundle of factors: circular mindset, circular design strategies and guidelines, circular-ready manufacturing processes (AM is a strong example nowadays) and punctual intensive quality control procedures on both incoming raw materials and outcoming products. This will allow a change of paradigm in product design, that needs to go further the "design freeze" concept and introduce the "adaptive design" concept where products adapts according to actual materials performances. Accepting materials deviations, being able to measure them easily and taking corrective actions on processes and design this will bring circularity at its highest level.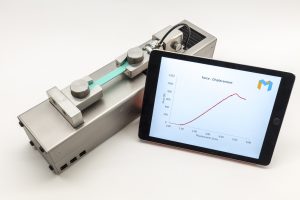 * * * * *
About the MaChAwAI project
The MaChAwAI project – Material Characterization Augmented with Artificial Intelligence – is implemented by three partners: MaCh3D Srl (Italy), RedLynx Robotics Srl (Italy), 3DPR Srl (Italy).
Summary: The main objective of the project is to develop an improved material testing procedure, augmented with artificial intelligence, and integrated with the testing machine MaCh3D, a miniaturised universal tensile testing instrument.