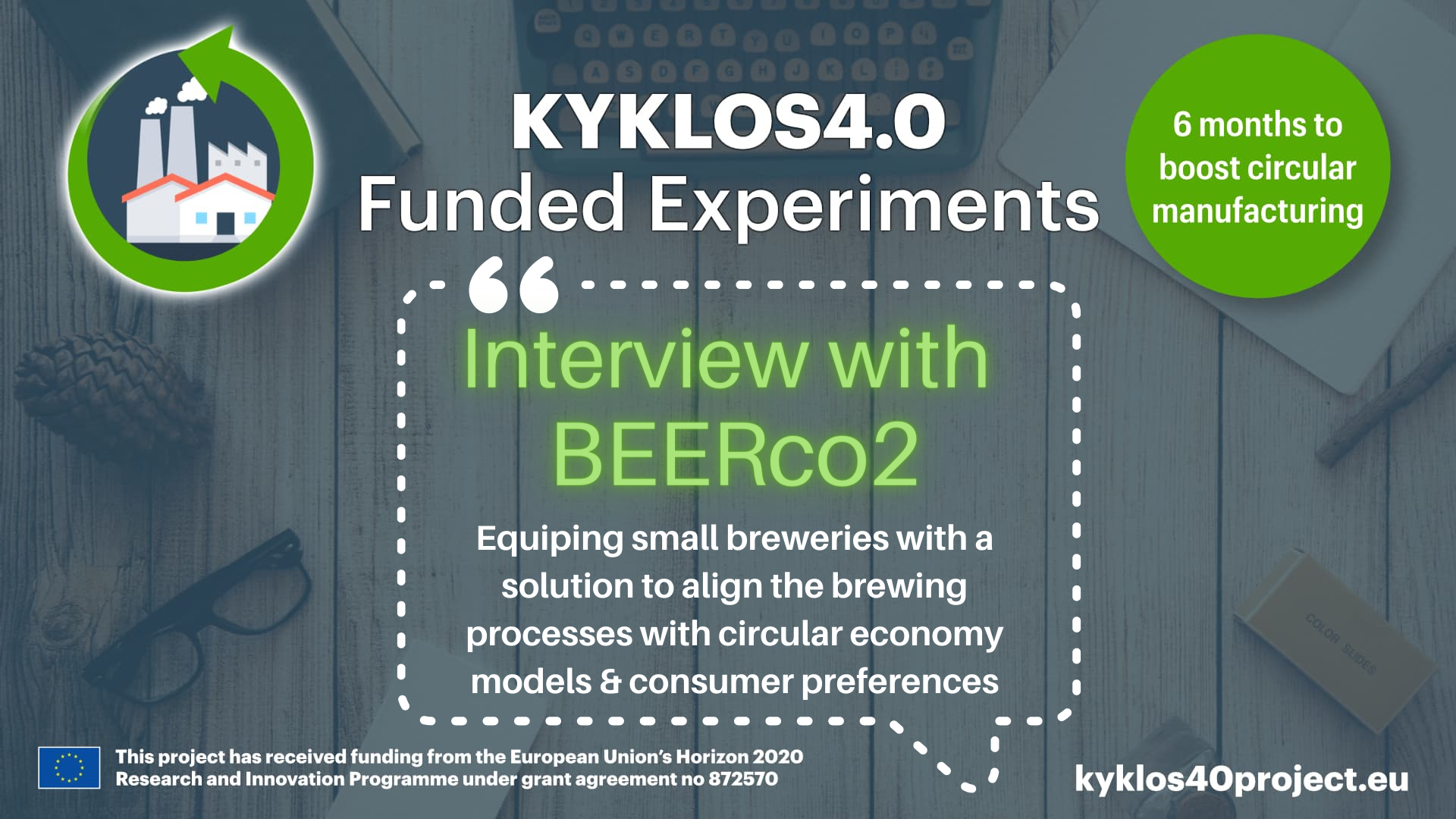 16 Mar

Interview with the BEERco2 experiment

The KYKLOS4.0 Open Call #1 is funding seven experiments that are developing technological solutions of value for the manufacturing domain.

The project will be releasing a series of interviews over the course of the coming weeks with the objective of promoting the work being implemented in these experiments and allowing our readers to understand potential uptake of the solutions being developed by them.

This is the second of seven interviews with the experiments funded under the open call. Today, we interview the BEERco2 experiment.

* * * * *

Explain your project in one sentence.

BEERco2 will equip small craft breweries with a solution that enables 'low carbon' beer production and align the brewing processes with circular economy models, as well as on-demand beer production in accordance with consumer (eco-friendly) preferences.

How is KYKLOS4.0 delivering value to your project?

Leveraging KYKLOS4.0 components/services accelerates the development of our new solution. The KYKLOS4.0 Cyber-physical Infrastructure will be leveraged to accelerate deployment of the edge features, while the PLM and LCA modules will be utilised for transparent provision of evidence related to the carbon footprint generated by the beer production.

The brewers will be in a position to transparently provide evidence of the carbon footprint generated by the beer production. Thus, they will appeal to modern consumers looking for both product quality and sustainable and environmentally responsible production. By utilising the LCA module, the packaging aspect will be analysed closely to assess potential impact of using personal (refillable) bottles instead of disposable packaging, or reusable packaging that is collected through a recycling system. It will allow us to expand our ecosystem to reach out to the European marketplace.

How is your solution contributing to circular manufacturing?

With our solution, we will minimise waste production by improving the system of refillable beer packaging and by enabling and promoting the reuse of brewing residues. We will contribute to knowledge advancement of this sub-domain by enabling efficient engagement with the consumers relying on digitalisation of the brewing process. As such, it allows process automation, which in turn can result in optimisation of beer production in relation to energy and water consumption. On the other hand, collected data from the production process can facilitate better exploitation of the production remains ('waste') by directing them, as a new input, to other food value chains, such as a pastry or the animal feed industry.

How will your solution be replicated and used in other manufacturing environments?

BEERco2 will foster networking among different industries and the creation of new local supply value chains, as it will allow 'circularity' of by-products from brewing processes, i.e. their use in other industries. For example, remains from the brewing process could be used in bakeries (e.g. ingredients for different pastries) or as food for livestock. By allowing for all the products to be scanned, customers get a unique insight into the product they wish to buy. They are also able to make a choice in terms of packaging. DNET's sensing and scanning technology is at an advanced level and previously tested with large wine and beer producers. Therefore, technology will be ready to back up necessary changes and innovation on the micro level as well.

What advice would you give to companies wishing to make their manufacturing processes more circular?

As most companies strive to make their manufacturing processes more circular, they will have to rely quite a bit on innovative technologies which are becoming more available and affordable. However, very often we do not need to invest heavily in new equipment and technologies, but we can simply do much better process optimization by leveraging better data already available and processing them to make the right decision. The good news is that there are many technology providers who are willing to test and co-develop their new technologies, and creating a symbiosis with them might be a good move for small companies with limited budget for investment in new technologies. A great example for this is the BEERco2 consortium, where a small brewery, MAGNUS Kraft, partners with DNET, a technology provider, and INOSENS, a technology enabler to solve their challenges related to circularity.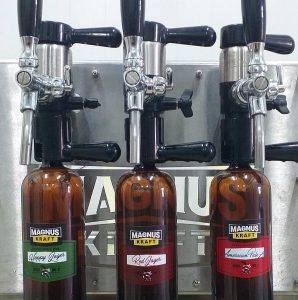 * * * * *
About the BEERco2 project
The BEERco2 project – Reconfiguring craft beer production towards circularity and individualized consumer preferences – is run by three partners from Serbia: DNET (Coordinator), Magnus Kraft, and INOSENS.
Summary: The craft brewing is associated with the same environmental concerns as larger breweries, such as energy and water consumption, wastewater and solid waste, and greenhouse gas emissions. However, contrary to larger breweries, there is a scarcity of tailored (technical/digital) solutions to optimize production of craft breweries in line with circular economy models as well as with specific consumer preferences. To address this challenge, BEERco2 will create and validate a blueprint for technologies and activities which will enable small craft breweries to convert their production to the circular economy model as well as towards a consumer centric, on-demand, manufacturing.